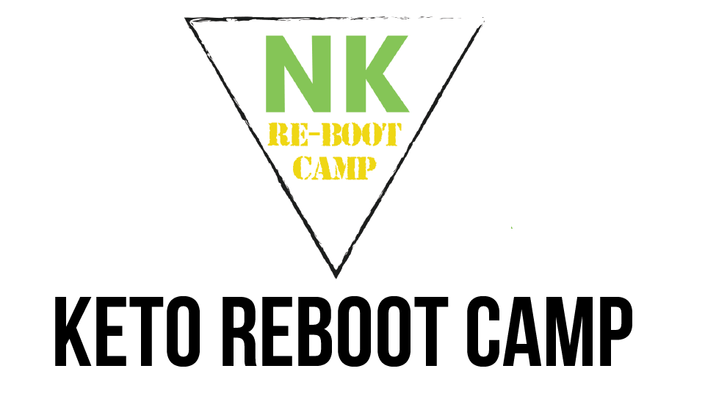 Keto ReBoot Camp
I have to say it... "Ketosis in 60 minutes" is just a flat out lie. You may have Ketones in your blood, but that does not necessarily put you into Ketosis. It certainly does not for the long run.
I want to teach you how to get in and stay in Ketosis naturally and effectively. Keto does not have to be hard. There are some simple processes to make Keto easy, but if you are having trouble or feel like you are in a stall this is for you!
KETO IS NOT ONE SIZE FITS ALL!
Below is a small list of what I will be going over in the course.
FREE 28 DAY SUPPLY OF NUTRIKETO PRODUCTS!
DAILY CONTENT: Over 35 Days of Daily Content
PREP: Shopping Lists, Worksheets, Articles and our Macro Calculator
COMMUNITY: Our Facebook Group with other ReBooters
LIVE VIDEOS: Facebook Live Videos to help get your questions answered
20% Off All NutriKeto products FOREVER!!!
PLUS....... WHAT WILL I LEARN ABOUT KETO?
Learn why "It's Not Your Fault You're Fat"
Learn the secrets of Nutritional Ketosis (NK) from the "Keto Sensei" who lost over 50 pounds using NutriKeto products & the NutriKeto Weight Loss protocol.
Learn how to turn your body into a "Fat Burning Machine" through NutriKeto (NK).
Learn the secret to effortless, sustainable weight loss with (NK)!
Learn how NutriKeto can help you to unlock your full potential.
Learn what causes inflammation and how to radically reduce it!
Learn why "Eat Less, Exercise More" is a Myth when it comes to weight loss!
Learn what the right kind of exercise is for you.
Learn how to calculate your daily Macro Nutrients for weight loss and optimal performance!
Learn why Salt and Saturated fats are really your friends, not your enemy!
Your Instructor
A former All Big 10 wrestler, at age 50, John found himself with prediabetes, high blood pressure, a frightening lipid profile and more than 50 lbs overweight.
"Clearly the "Eat Less, Exercise More" mantra along with the USDA's food guidelines were not working for me, I was a heart attack waiting to happen." An avid traveler and business lecturer, John found himself lecturing in Japan when the question was posed to him, Why are Americans so Fat? "I was completely stumped by the question, I really didn't know but I resolved to find out exactly why so many Americans are overweight."
What I found at first shocked me….I thought this can't be true. Later it made me angry as I concluded that the food policy of the United States of America, has very little to do with your health or my health, instead it seems to be about the health of Multi-National Corporations!
"Specifically, I found that weight loss has much less to do with Calories In/ Calories Out and much more to do with your hormones, specifically your body's largest hormone, Insulin. What I came to understand was that I like most people had become carbohydrate intolerant, my body just wasn't processing carbohydrates well anymore and as a result eating carbohydrates was wreaking havoc on my health. I have found that most people understand the terms "Gluten Intolerant, or Lactose Intolerant the answer being don't eat Gluten or Dairy, but Carbohydrate Intolerance is something new to them. Once I dramatically cut my carbohydrates and increased my fat intake, I became Keto Adapted. No longer burning glucose for energy, I instead began burning Ketones, and I felt AMAZING. The weight melted off (over 50 lbs) and I became Evangelical about spreading the good news….the answer to obesity, Type II Diabetes and many other metabolic related diseases was a Low Carb/High Fat Diet. The answer was and is (NK) Nutritional Ketosis!"
Course Curriculum
Welcome To The Keto ReBoot Camp!
Available in days
days after you enroll
DOWNLOADS & TOOLS
Available in days
days after you enroll
LIFETIME DISCOUNT
Available in days
days after you enroll